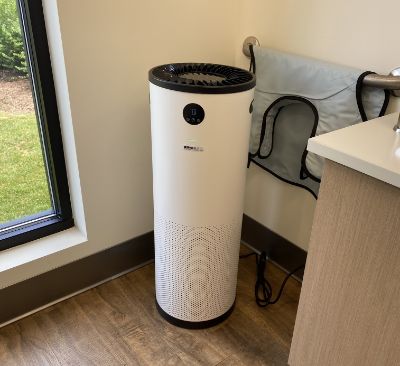 Feel confident receiving dental care at Alamance Family Dentistry!
At Alamance Family Dentistry, the safety and wellbeing of our patients and staff are our #1 priority. We have gone above and beyond all CDC and ADA recommendations to insure our office is one of the safest dental practices in the country to receive treatment.
In each treatment room along with the check in/out areas, we have installed state-of-the-art, air filtration units developed by Surgically Clean Air®. Using a six stage filtration and treatment process, the air in each treatment room is sanitized continuously. The air is filtered by an advanced, HEPA filter to trap particles smaller than a virus; subsequently, the filtered air is hit with a UV light frequency that denatures/kills any remaining biomatter. The air is then ionized prior to re-circulation which allows it to be more easily filtered again and gives the air a pleasant, light quality. You can read more about these filters here:
https://surgicallycleanair.com/sca-products/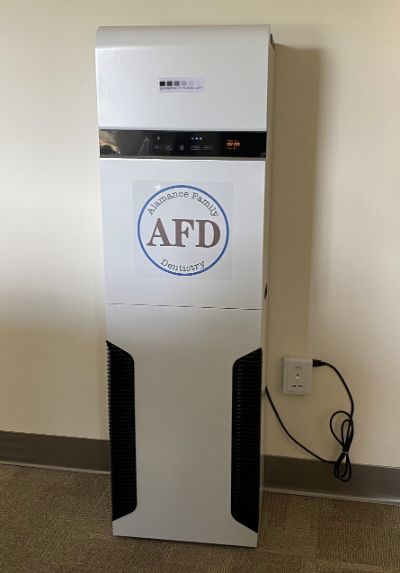 Our three, HVAC units are outfitted with the latest generation of air filtration technology by RGF called REME HALO®. These create an "oxidative plasma" to neutralize and kill biomatter. This is a much safer and more effective sanitation method than the use of ozone. You can read more about this technology here:
https://www.rgf.com/products/air/reme-halo/
https://www.rgf.com/article/hydro-peroxide-for-iaq/
The use of this air scrubbing/sanitization technology along with our continuous disinfection of all hard surfaces allows us to safely perform dentistry during the COVID-19 epidemic. Please reach out to us with any questions or concerns you have about receiving treatment at our office.