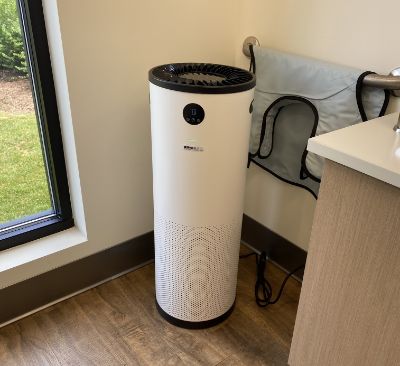 At Alamance Family Dentistry our #1 priority is safety of our patients and staff. We are screening all patients, taking their temperature upon entering the building, and requiring the use of a mask when in the office. In addition, our office has partnered with the leading manufacturer of medical air filtration units, Surgically Clean Air, to install five, state-of-the-art units.
These are not just a HEPA-filter. These air filters are medical grade filtration units utilizing a staged filtration process to filter out particles even smaller than viruses, then process the air through a UV light to kill any bio matter, prior to a re-ionization of the air before re-circulation. These are, reportedly, the most advanced and effective air filtration units available.
The CDC recommends the use of air filtration and UV lights in the implementation of safe practices within dental offices. The air filters are working in operatories continuously, allowing all of the air in the operatories to be scrubbed/filtered every five minutes. While we are turning over the operatories and disinfecting all surfaces, the air is being filtered and you will breathe clean, sanitized air in the operatory.